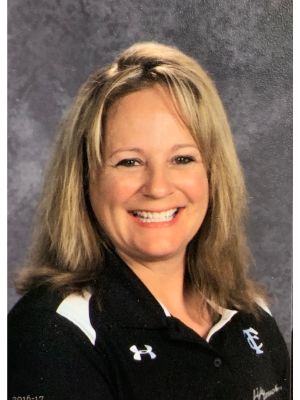 1988 Graduate of Hoopeston-East Lynn High School.
State Champion 100-meter race and 2nd in 200-meter race.
3-year All-Conference Volleyball.
Volleyball Player of the Year by News-Gazette.
Athlete of the Decade by News-Gazette.
Conference Most Valuable Player Volleyball.
2-Year All-Conference Basketball.
Two-time All-Conference 1st Team Volleyball at Murray State.
Held seven Murray State records in volleyball.
Set school record in indoor sprint medley and outdoor 400-meter relay.
Ohio Valley Conference Academic Medal of Honor.
Graduated Summa Cum Laude.
Member Hoopeston Area High School Athletic Hall of Fame
and Murray State University Athletic Hall of Fame.
Joined Bob Doty as first father/daughter inducted into Murray
State University Athletic Hall of Fame.
Coached volleyball Southern Illinois University (1994-2001).